Deep in my hard drive (and on the Internet), there are projects I never (officially) published... Because they sucked, that's why. ;)
But, I decided to "publish" some of my projects anyways, because I hate you like that. Publish in quotation marks, because all of this is unfinished.
That's not very motivating.
Games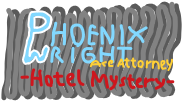 Sucky Ace Attorney fan game. Phoenix Wright tries to solve the many mysteries revolving around an infamous hotel. However, due to various demoralizing events, Wright starts to doubt his skills as a lawyer. Will he be able to solve all mysteries? Or will he quit? That is up to you to decide. Assuming you care, of course.