07/30/2021
To work, means pain. To fail university twice, means depression. To not find a job, is frustrating.
I wish you good luck and a happy life. Is this a confession about my true life? No.
Also, I'm pretty sure I am in school.
Drawing is fun. I used to wonder why people doodle at school, but now I know that that's just because you hate algebra.
07/28/2021
This whole day I researched fan comic legality. Why? Because I am a scaredy cat. Neocities says it uses fair use. Does this not apply when you live in countries that don't have fair use, or does it always apply?
I could also, you know, make my own web comic. Without Woopers.
07/26/2021
La surface de tous les pomme est sale. I'm learning French, so no criticism will be accepted. I am a stubborn baka. Bye.
EDIT 30/07/2021: pommes, not pomme... tous les means "all the".
07/25/2021
Draw. Tie. Composing is difficult. Sometimes I think of masterpieces via improvisation, but I don't write them down, because I am in bed. Nice.
Draw decent art, and you get a billion views. But, what kind of nice person cares about views? Everyone does, secretly. This is what a villain would say... But, one shouldn't brag about them. Do what you want/enjoy. Thank.
07/20/2021
Is your patellar reflex working correctly? What is a square root? Do you enjoy dragons? When did the Dutch smuggle a large amount of butter? August 1st, 1963, also called the Night of the Butter. Why can't I remember the date for the french revolution? Well, butter smuggling sounds pretty hardcore. Why, Ludwig, why?
07/17/2021
07/14/2021
07/13/2021
Is writing fanfiction bad? Some say it can disrespect the source material. Well, this probably applies to smut.
They also have garnered a reputation for being Bambi. I don't actually read fanfictions, so I can't say anything to this. Why am I talking about fanfictions, then?
Some people write Ace Attorney fanfics because they cannot accept the fact that Turnabout Big Top exists. I just want comedy. But...
I can guarantee you, all of my old fanfics/games are low quality. If nothing else, atleast the grammar can somewhat satisfy you... But it probably can't because of punctuation errors.
Dang.
07/11/2021
It seems sidebars are loved by many. Understandable, really.
07/09/2021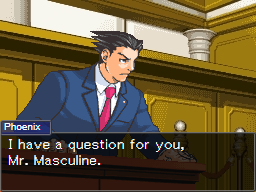 07/07/2021
Rumors are scary. They can kill people. Indirectly. I wish I could assure you I do not abuse children, but all I can say is I do not want to have children in the first place. And I'm asexual, so chances of a child are slightly less likely. Here is to hope all will go well, for you, and for me.
But, what about the Jungle Book? Well, what about it? I haven't watched it. Too bad.
07/02/2021
You
see
this?